It goes without saying that the Ford Mustangs and V8 engines go together like beer and the greasiest cheeseburgers known to man, but that doesn't mean they're inseparable.
Ford has lowered the ante and offered a 2.3-liter turbocharged EcoBoost four-cylinder engine in the Mustang since the current generation's 2015-model-year launch, and for 2019 the Mustang EcoBoost gets a minor upgrades. It boosts output to 213kW of power, and includes upgraded suspension and brakes for improved handling.
Why would Ford bother making a sportier four-cylinder Mustang when buyers can still get a V8? The idea isn't unprecedented. From 1984 to 1986, Ford sold the Mustang SVO, a performance model powered by a 2.3-liter turbocharged four-cylinder engine – just like today's Mustang EcoBoost. Fast forward to 2019, and Ford has stricter emissions standards to think about.
So, can you really have the same amount of fun as a V8 with four fewer cylinders? To find out, we accepted an invitation from Ford to drive the 2020 Mustang EcoBoost for a week on the roads in/around Johannesburg.
Hiding In Plain Sight
That's exactly what this Mustang does.  It's hiding its performance capabilities behind nondescript bodywork. While a Mustang is always likely to attract a certain level of attention, this car's lack of "5.0" and "GT" badges (indicating a V8 model) or the coiled snake of a Shelby GT350 or GT500 or even that distinct Bullitt badge, will lead the uninitiated to dismiss it as a refugee from a rental car lot. That's all part of the fun.
Other than an aluminium dashboard panel, and oil and turbo-boost gauges most owners will probably never use, the interior is unchanged. The Mustang's interior doesn't have the clean, minimalist look of  other sports vehicles, but it doesn't have the Supra's bunker-like feel, either. Neither car can match the spacious feel of the Mercedes-AMG GT cavernous interior, but the GT is just too big. It isn't in the same league as the Mustang or Supra when it comes to driving dynamics, so it isn't really a fair comparison.
Like other Mustang models, the EcoBoost gets an 8.0-inch touchscreen running Ford's Sync 3 infotainment system, with Apple CarPlay and Android Auto. A 12.0-inch digital instrument cluster is also available, replacing the analogue gauges with a reconfigurable display that can show up to eight virtual gauges. They range from simple dials in Normal mode to a more elaborate setup in Sport+. The graphics were nice to look at and easy to read.
All That Power
The 2.3-liter turbocharged four-cylinder EcoBoost engine used in the Mustang is related to the engine from the Ford Focus RS – the company's ultimate hot hatchback. That got some engineers at Ford proving ground thinking, "What if we put a Focus RS engine in a Mustang?"
So a team of five engineers took the engine out of a Focus RS test mule, turned it 90 degrees to fit the Mustang's rear-wheel drive layout, and tested it out. The result was so good that Ford's top brass approved the car for production. But the Mustang has a different turbocharger, a different exhaust system, and radiator, and different transmissions.
On The Road
On the road, the changes Ford made add up to a lot more than just an EcoBoost Mustang, giving it a character very different to the traditional V8 Mustang.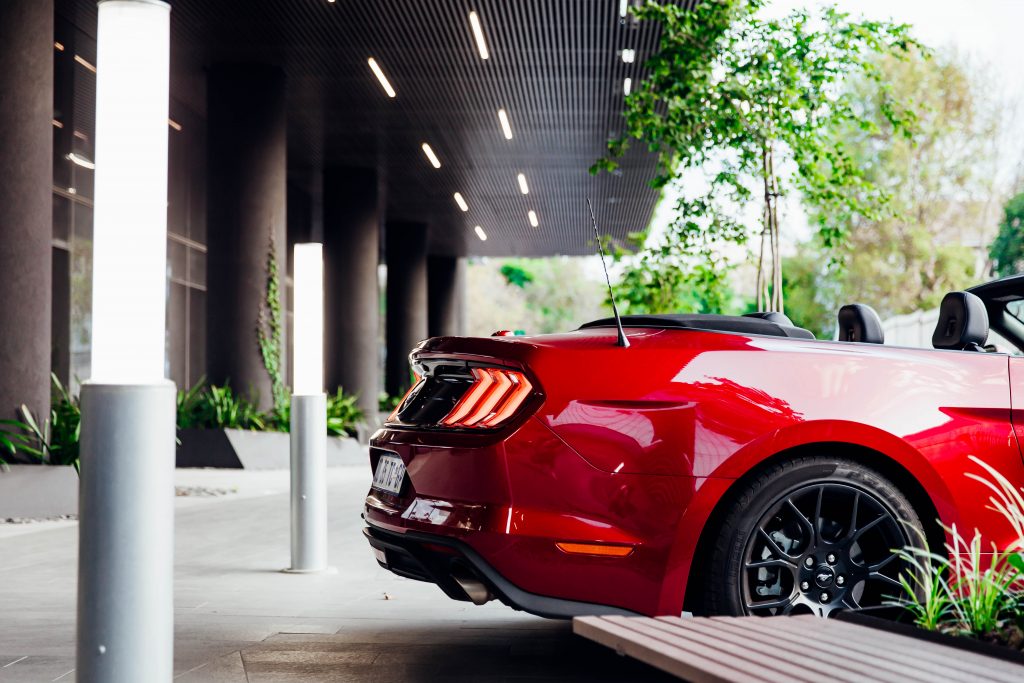 Instead of an all-American V8 roar, this Mustang emits the sound of a European hot hatch. The Mustang includes an active exhaust system that lets the driver choose different levels of loudness, from Quiet mode to Track mode. Switch it to Track mode, and you get a nice mechanical growl, accompanied by the whistle of the turbocharger. It's a great soundtrack, and one we never expected to hear from a Mustang.
Like the exhaust note, the driving experience proves that you can teach an old Mustang new tricks. With its independent rear suspension, the current-generation Mustang was already pretty good in corners. But this model takes things to a whole new level. The tire, chassis, and brake upgrades – combined with the EcoBoost engine's lighter weight – create quick, precise reactions that are more sports car than muscle car. Ford's engineers weren't kidding about usable power, either. This engine has remarkable flexibility, with ample power available throughout the rev range.
The automatic is fine for highway cruising, but in the heat of battle it can be frustratingly indecisive. It constantly juggles its many gears for no obvious benefit. Granted, you can shift manually using steering wheel paddles, but if you're going to do that, Ford should've just introduced a manual transmission.
Would we buy one for our garage? Nope, hand it over as a gift.
The Mustang is pretty light on driver aids. Autonomous emergency braking and adaptive cruise control are now available. But it's a similar story with other sporty cars in this price range.
Ford offers a4-year/120 000km comprehensive warranty, 5-year/100 000km service plan, 3-year/unlimited km roadside assistance and 5-year/unlimited km corrosion warranty. Service intervals are every 20 000km.
The Mustang EcoBoost was once the car you bought if you couldn't afford the V8-powered Mustang GT, it still is but there's no shame about it as Ford has built this into something desirable. The combination of classic Mustang looks and the type of engine normally found in hot hatchbacks is a good one.
However, there are other options which makes things difficult or easy (depending how you look at things) to choose your next sports car. Two-seat sports cars like the Mazda MX-5 Miata, Fiat 124 Spider and Toyota 86 twins, as well as the Nissan 370Z can be had for similar money. So can a Volkswagen GTI or Subaru WRX, which are more practical than any of these cars. One thing is for sure: it's a great time to be shopping for an affordable performance car.
Would we buy one for our garage? Nope, hand it over as a gift. Starting price of the Mustang 2.3 EcoBoost is from R856 200.
Photography by Harmonix
You might also like
---
More from Autonomy
---
Earlier this week, the folks over at Volkswagen revealed its New Auto 2030 strategy during a dedicated online event. The …
Earlier this week the folks at Ford and Google have inked a deal on connected cars, with new models set …
Late last week the folks over at Kia announced that they're reinventing their brand strategy and corporate mission - with …