Ford has revealed the new Ranger Raptor, the performance version of its hotly-anticipated midsize bakkie. The potent off-roader made its debut at Gamescom 2018 in Cologne, Germany today, and will head to dealerships next year.
Most interesting is probably Ford's choice of powertrain. The Ranger Raptor will have a biturbo 2.0-liter EcoBlue diesel engine, paired with the 10-speed automatic transmission from the F-150 Raptor. It's enough for 156 KW, which seems a little on the low side compared to the F-150 Raptor's 335kW, but 500Nm of torque, which is far more impressive.
That's combined with a reinforced chassis frame, which uses high-strength, low-alloy steels to maximize off-road racing capabilities. FOX shock absorbers with Position Sensitive Damping can ramp up the damping forces when you're pushing hard, but then soften them when you're back on the road. That way, you get a truck that can handle fast-paced rugged driving but not shake your teeth out when you're cruising on the highway.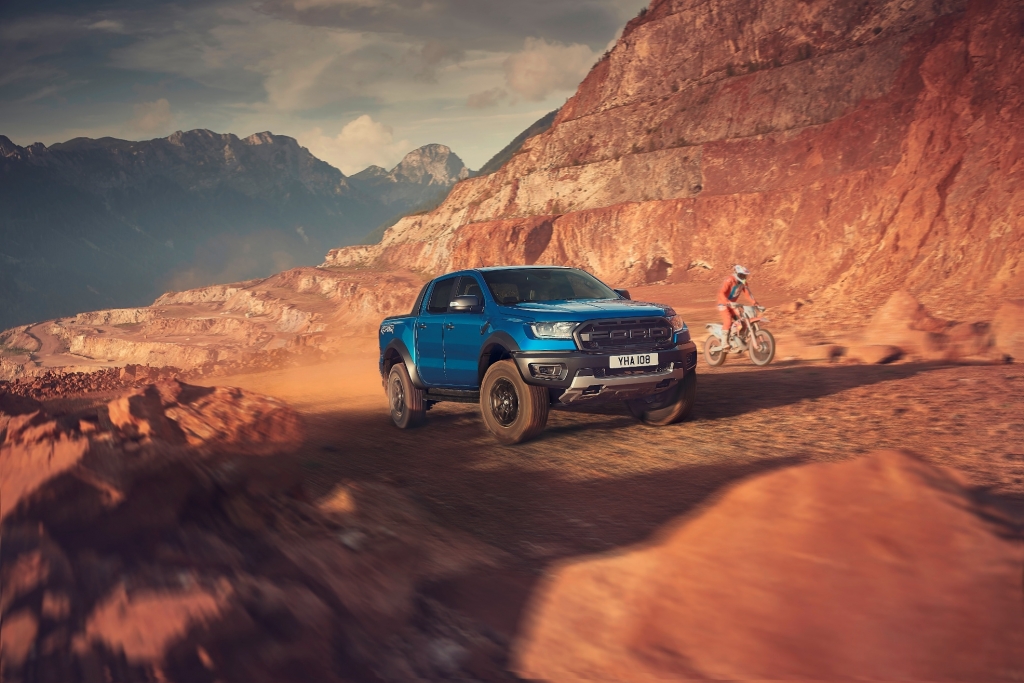 Ford's Terrain Management System offers a total of six modes. Normal is focused on comfortable driving along with decent fuel economy, while Sport mode is intended for more enthusiastic on-road driving. Grass/Gravel/Snow mode better tackles slippery and uneven off-road surfaces, while Mud/Sand mode does the same but in loose sand and mud. Rock mode is intended for low-speed rocky terrain. Finally, there's Baja mode, with everything turned up to the max.
Outside, there's a new grille and Xenon headlamps. The new bumper gets LED fog lamps and functional air-curtain ducts. Flared composite front fenders, side step boards that also protect from rock spray, and oversized wheels complete the look.
Inside, there are extra-bolstered seats with suede-effect trim, blue stitching, and leather accents. Magnesium paddle shifters are paired with a perforated leather steering wheel. There's SYNC 3 infotainment, too, with an 8-inch touchscreen and a FordPass Connect embedded modem.
While the Raptor will only make it's local debut in 2019, that doesn't mean we don't get a chance to try it out virtually, now. Ford and Microsoft have confirmed that the performance bakkie will feature in Forza Horizon 4, in fact.
Pricing for the new Ranger Raptor hasn't been confirmed at this stage.
More from Cars
---
Rumours have been swelling as to exactly when - and if ever - the 2021 Opel Corsa will make its …
Staying true to global announcements made this Monday by parent company Stellantis, PCSA (Peugeot Citroen South Africa) has confirmed that …
Late last week the folks over at Kia announced that they're reinventing their brand strategy and corporate mission - with …