During the hard times caused by the coronavirus pandemic, automakers are helping any way they can, big or small. We admire them, we really do.
The carmakers are offering services such as support specifically for the nation's healthcare workers who are risking their own lives in order to save others to grocery relief for the needy. Below, we've listed a few automakers worthy of a praise for doing their bit during these difficult times. In no particular order, of course.
Mercedes-Benz
Mercedes-Benz South Africa announced that it will assist in the fight against the COVID-19 epidemic in the Eastern Cape, by manufacturing the supply of Personal Protective Equipment (PPE) in the form of 3D printed recyclable plastic face shields for use in mass screening, clinics and hospitals. In addition, and pending quality assurance regulatory approval, MBSA will also manufacture and supply Continuous Positive Airway Pressure (CPAP) breathing aid devices from its East London Manufacturing Plant for the Eastern Cape Provincial Department of Health.
BMW
MW Group South Africa's contribution to the fight against the spread of Covid-19 stepped up a gear this week as the company loaned 17 BMWs to the South African Red Cross Society. This is after the brand had handed over 40 000 high-quality protective respiratory (FFP2) face masks to the Gauteng Department of Health in order to help protect health services workers.
The Red Cross had asked BMW for assistance to help it reach marginalised and poor communities that have been badly impacted by the lockdown regulations required to mitigate against the uncontrolled spread of the virus.
The cars, the majority of which are Rosslyn-built BMW X3s, will be used by the Red Cross to reach these communities. In addition to the provision of screening and contact tracing, the cars will assist with the distribution of hot meals and food parcels, the dissemination of information in six languages, the elimination of coronavrius myths, and the provision of psycho-social support to volunteers and emergency personnel engaged in anti-Covid-19 operations.
KIA Motors
KIA Motors has, in the other hand, decided to donate to more than one cause. This week, the Korean manufacturer donated a KIA K2700 light commercial vehicle to the Madrassah Ashraful Uloom in Marlboro, Johannesburg, to assist the organisation in delivering food and other essentials to the vulnerable community of Alexandra and surrounds during the Covid-19 Lockdown.
This follows KIA's donatation of three KIA K2700 light commercial vehicles and three KIA Picanto STARTs to SANZAF to also assist in delivering food and other welfare support services to vulnerable communities.
Ford Motors
Ford Motors has been leading news headlines with their acts (yes, more than once) of goodwill even before the coronavirus lockdown period started. The latest act came in just last week when Ford announced it is supporting the Port Elizabeth branch of the SA Red Cross Society with two loan Ford Ranger Double Cabs to use from the start of the lockdown through to the end of May.
Before that, Ford dealers  stepped up to support Ford Motor Company of Southern Africa's initiative to produce COVID-19 face shields by contributing R1-million to the project from the Ford National Dealer Council. Additionally, Ford suppliers and business partners have donated over R900 000 to the project, which includes R600 000 from Absa, with which Ford has a joint venture in Ford Credit.
April set the concrete for Ford's efforts as they announced that they has commenced production of 57 000 protective face shields that will be donated to front-line medical and essential services personnel who are most at risk of contracting the COVID-19 virus that has spread worldwide. Ford has also approached its suppliers and business partners to ramp up production to a minimum of 500 000 units to meet the growing demand for these shields.
This was shortly followed by Ford Motor's partnership with several local NGOs to provide vehicles for their use to assist their community support and relief efforts. This includes Gift of the Givers and Laudium Disaster Management.
During the latter part of April Ford Credit confirmed that it was allowing personal and business  customers that are impacted by reduced income or cashflow have the option of requesting a much needed payment deferral. All of this followed a two-month extension to the service plan for all vehicles where the contract expires between 1 March and 31 May 2020.
On 12 June 2020 Ford announced that its Ford Motor Company Fund has awarded a grant of R355 000 to Unjani Clinics to mobilise hygiene efforts and equip communities with basic personal protective items as a proactive measure to help contain the spread of COVID-19.
Unjani Clinics, which is a non-profit company and registered public benefit organisation, developed the project to focus on two main taxi ranks in Mamelodi in Pretoria and Struandale in Port Elizabeth respectively, where 6 500 protection and hygiene packs will be distributed to commuters over 30 days to limit the spread of COVID-19 as people begin returning to work.
Ford's efforts haven't stopped yet. Ford has assembled and supplied 50 000 face shields for the United States Department of Defense to shore up its response to the COVID-19 pandemic in our region.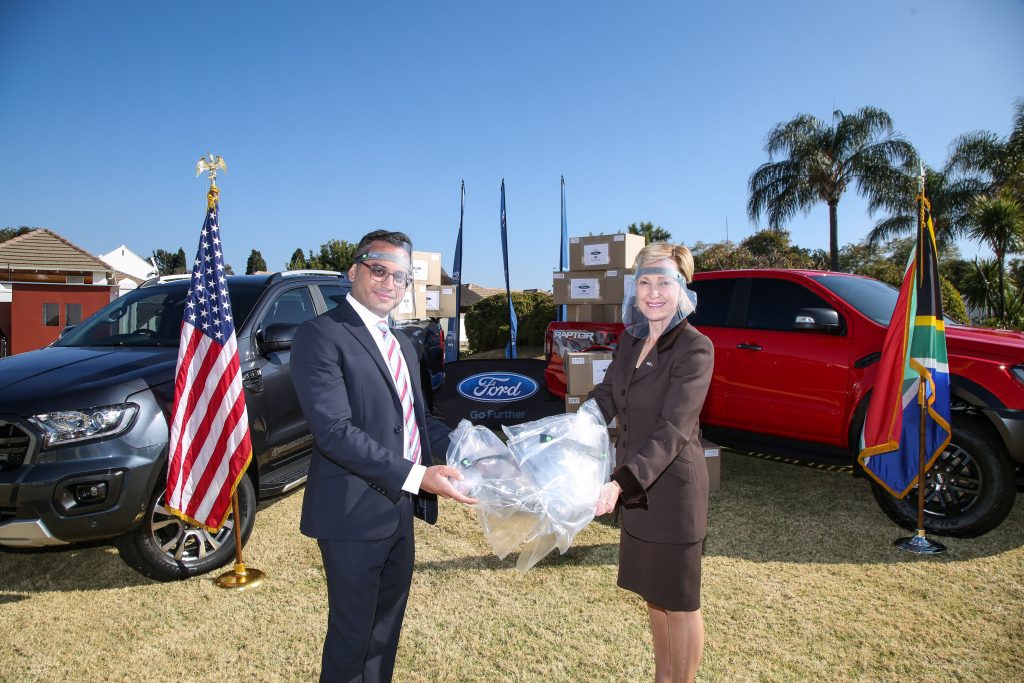 This large order was facilitated by the US Embassy in Pretoria, and funded by the US AFRICOM Humanitarian Assistance programme. The face shields will be provided to the South African Military Health Service members who are on the frontlines battling the coronavirus across the country. They will also be supplied to Botswana, Namibia and the Kingdoms of Eswatini and Lesotho.
Mazda
Mazda dealers across South Africa are offering a free vehicle service to registered healthcare workers under level 4 and level 5 lockdown. This program is available to all Mazda vehicles, irrespective of their age.
As further assistance to all Mazda owners with vehicles that have valid warranty and service plans, these plans will be extended. The extension period depends on the duration of the lockdown and Mazda owners can obtain individual details from their dealer partners.
Toyota South Africa
Meanwhile, back in Sandton, Toyota South Africa Motors committed to spending more than R10 million to assist the local taxi industry in the fight against the spread of COVID-19. The assistance comes in the form of more than 65 000 litres of sanitisers, 2 000 face masks, as well as COVID-19-related marketing initiatives.
With regards to sanitisers, a total of 2 000 x 25 litres, 3 000 x 5 litres, 20 000 x 100ml, as well as 2 000 hand-wash dispensers have been distributed to regional taxi structures across the country's nine provinces.
Volkswagen
Similar to Ford Motor's long aid sheet, Volkswagen has spared no effort when it comes to the fight against VOVID19. Things started back on April 20th when VW announced that in response to the global Covid-19 crisis, they're focusing time and attention on the manufacture of masks and medical equipment in addition to using 3D printing technology to produce parts for a mechanical ventilator which will be produced at the Uitenhage plant.
On 1 May 2020 Volkswagen donated 150 beds to the isolation facility at the Nelson Mandela Bay Stadium. This is following Nelson Mandela Bay municipality's announced that the stadium would be used to isolate low-acuity patients who have been infected with Covid-19, to prevent them from spreading the virus further.
Some sort of assistance was introduced for VW owners, too. In the event that your new vehicle warranty or the EasyDrive Plan expires or has expired during the period from 27 March 2020 to
30 June 2020, Volkswagen announced that they will extend the warranty or maintenance/service plan periods with an additional three months. These periods will end three months after the expiry of the new vehicle warranty or the Volkswagen EasyDrive Plan. Unfortunately, mileage restrictions will not be extended.
To better things, Volkswagen will be converting its plant in Neave (Korsten, Port Elizabeth), which is currently not in use, into an overflow medical facility. Once fully operational, the facility could accommodate up to 4 000 beds for patients diagnosed with the Covid-19 virus. This would also include high-acuity patients who require oxygenation.
Funding for this project comes from the German Federal Ministry for Economic Cooperation and Development (BMZ) will provide funding of 5.2 million Euros (R107 million) while VWSA will contribute R28 million to the project.
Mitsubishi
Mitsubishi partnered with SANZAAR Rugby Referees Jaco Peyper, Rasta Rashivenga and Junior Springbok assistant coach Bafana Nhleko on community feeding projects over the last week. Their aim was to reach community members in need with a small food parcel during this time. Such a noble deed.
Hyundai
Hyundai has donated vehicles to Gift of the Givers and FoodForward SA – both non-governmental organisations who have made it their mission to distribute food to such communities.
Eight vehicles – five H100 trucks, one H-1 Bus and two Grand i10 Cargo panel vans – are being donated to Gift of the Givers and FoodForward South Africa. The organisations will use the vehicles in their drive to get food to communities where families have no income and a severe food shortage due to the effects of the Covid-19 pandemic.
Two of the H100 trucks and the H-1 Bus will go to Gift of the Givers, while FoodForward SA is to receive three H100 trucks and two Grand i10 Cargo panel vans. The H100 trucks will be fitted with closed canopies donated by Beekman.
This feature is updated as announcements are made
You might also like
---
More from Cars
---
The 2021 Chery Tiggo 4 Pro isn't just considerably cheaper than the average new vehicle sold in the Mzansi, it's …
The electric space is about to get crowded in 2022, with Audi's e-tron line making its official debut in production …
Freddie Flintoff, Chris Harris and Paddy McGuinness are back behind the wheel and are getting more competitive than ever in an …